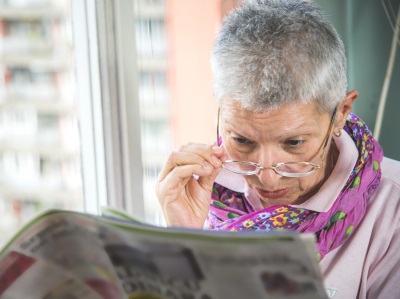 Macular Degeneration is the leading cause of severe vision loss in adults over age 50. This eye disease occurs when there are changes to a small portion of the retina, or the macula. Central vision is reduced in people with macular degeneration, in other words they have a difficult time seeing objects and details straight ahead.
Age Related Vision Loss
Signs of macular degeneration start slowly and may not be noticeable, making annual eye exams that much more important. Symptoms may include a gradual loss of clear color vision, objects appear to be distorted or straight lines appear wavy, and a dark or empty area appears in the center of vision.  If you experience any of the macular degeneration symptoms, contact your eye doctor immediately for a comprehensive eye exam. Your optometrist will perform a variety of tests to determine if you have macular degeneration or any other eye health problems.There are two forms of macular degeneration, dry (atrophic) and wet (exudative). Both are age-related but they are very different forms of the disease.
What is dry macular degeneration vision loss and what can you do?
With dry macular degeneration, the tissue of the macula gradually becomes thin and scars. The scarring stops the macula from functioning properly, thus causing vision loss. Doctors believe that a low-fat diet rich in green leafy vegetables like spinach, and broccoli can help slow dry macular degeneration vision loss. Nutritional supplements may also be beneficial. This is important because dry macular degeneration has no cure; meaning when central vision is lost it cannot be restored. This is the most common form of macular degeneration.
Vision Loss From Wet Macular Degeneration Responds to Treatment
Wet macular degeneration is less common, but responds to treatment with early diagnosis. With wet macular degeneration, fluids leak from newly formed blood vessels under the macula and the result is blurred central vision. The vision loss can be rapid and severe. Laser treatment, referred to as photocoagulation, is used to seal the leaking blood vessels. Other treatment known as Photodynamic Therapy (PDT) is sometimes used. With PDT, a medication is injected into the bloodstream then activated with a laser that is shone into the eye. Neither of these treatments are permanent, but they do slow the rate of central vision loss.vision
Devices to Help with Low Vision
People with macular degeneration often use low vision devices to effectively enhance their existing ability to see. Some of these aids include a magnifying glass, illuminated magnifier, and telescopic and microscopic lenses.
Click to Call for an Appointment with Dr. Joe Schniederhan